Regular price
Sale price
$69.68 USD
Unit price
per
Sale
Sold out
Sedum 'Autumn Joy' Stonecrop Plants Flowers Herbs
('Herbstfreude') Stonecrop
FLAT SALE!

One of the most sought-after Sedum varieties, this #1 bestseller is a popular choice for gardeners. This well-known, long-standing perennial is favored by modern landscapers due to its low-maintenance nature and versatility in a variety of soils with good drainage. The rose pink blossoms transition to bronze seed heads, lasting until wintertime.

Plant Details:
Perennial in zone: 3 - 9
Height: 24-30"
Spread: 18-24"
Exposure: Full Sun
Bloom time: Early Fall, Late Summer
Foliage Color: Green Shades
Flower Color: Pink Shades
Good Cut Flower: Yes
Rabbit resistant: Yes
Bee-friendly: Yes
Attracts butterflies: Yes


Is the sedum plant edible?
Sedum leaves, stems, and tubers with red flowers are edible raw in salads, whilst those with yellow flowers possess a mild toxicity, requiring cooking prior to consumption.
What are the medicinal uses of stonecrop?
Common stonecrop is a perennial herb. Medicinal properties of the aboveground parts of the plant are utilized to make medicine. Common stonecrop is ingested to help treat coughing and hypertension, and topically applied for treating skin lesions, burns, piles, warts, eczema and oral ulcerations.
This is for informational and educational purposes only.
15 perennials for $69.68 only $4.64 each.
30 perennials for $129.88 that's just $4.33 each!
Live perennial plants.
Ships as plugs or power plugs.
All organic regulations are adhered to by our producers.
Michiana Wholesale LLP.
MichianaWholesale.Shop
Share
View full details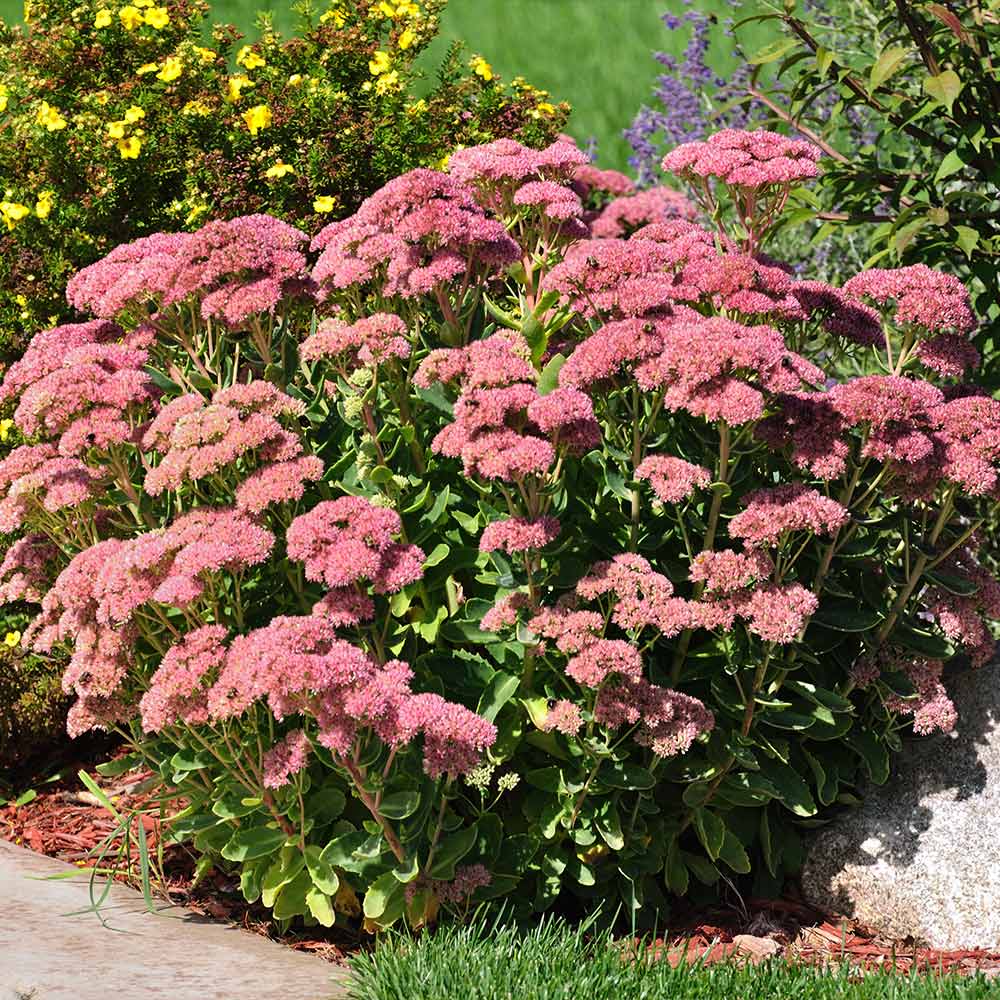 Fast Shipping

All items ordered ship Priority Mail within 48 hours.

Holiday and weather excluded.

Free Local Pick Up

Local pick up is available in the Michiana area.

Call to schedule your pick up!

269-757-3801 ~ Baroda, MI. 49101